Are you new to Lowrance GPS units for off-road navigation?
Get the comprehensive Getting Started Guide:
//php echo $heading_title; ?>
Lowrance Off-Road GPS Systems for Jeeps, 4x4s, UTVs, and More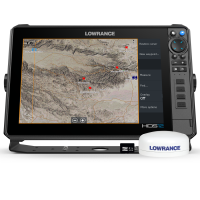 Discover the ultimate Off-Road GPS solutions with our premium selection of Lowrance off-road GPS units, meeting the diverse needs of various off-road vehicles from off road racing to recreation. Originally designed for the marine market, Lowrance GPS units have proven to be highly effective in a wide range of off road GPS navigation scenarios. As an authorized Lowrance dealer, Rugged Routes offers top-quality GPS devices that elevate your off-road adventures off road racing to recreation, whether you have a jeep, 4x4, UTV, trophy truck, rock crawler, side-by-side, snowmobile, snowcat, dozer, or a casual weekend wheeler.
Our Lowrance off-road GPS devices boast fast update rates, large touch screens for easy viewing, and compatibility with high-resolution off-road mapping and accessories right from the start. Choose from standalone GPS units or networked multi-function display systems, ensuring maximum adaptability to your specific requirements. Explore our HDS and Elite Series units, with the HDS lineup being the top choice for those seeking the best in off-road GPS navigation and accessory compatibility. HDS Series units provide the perfect solution for racers, featuring a combination of physical buttons and touchscreen, along with a wide range of Lowrance accessory connectivity options. Available in screen sizes of 9", 12", and 16". The Elite Series offers a more simplified and budget-friendly alternative to the HDS Series, while still delivering exceptional performance and value. Choose from 7", & 9" display sizes to find the perfect fit for your off-road vehicle. Upgrade your off-road navigation experience with Rugged Routes and our selection of premium Lowrance off-road GPS units designed to enhance every adventure. The Baja External antenna is a popular accessory, providing improved reception and accuracy for your off-road GPS system. We also offer a range of accessories to customize your off-road GPS unit to your specific needs, including mounting solutions, networking cables, and power cables. Whether you're a casual weekend wheeler or a professional racer, our GPS systems will help you navigate the toughest off-road terrain with ease.

---
Refine Search
Showing 1 to 13 of 13 (1 Pages)